Upon its completion in 1878, Jules Tavernier's Dance in a Subterranean Roundhouse at Clear Lake, California was hailed in a San Francisco news-paper as "by far the most remarkable picture ever painted on the Pacific Coast." The French-born artist's painting now returns to California for the first time in more than 140 years as a central focus of this presentation of his work. The current exhibition puts forth a new interpretation of his career masterwork and his other compositions of the western United States by offering a multiplicity of voices and perspectives, including those of Pomo cultural leaders and curators.
In the dramatic scene of the painting, Tavernier depicts a ceremonial dance of the Elem Pomo in an underground roundhouse at Clear Lake (Xa'btin), California. Capturing a historical moment, it chronicles a cultural interaction on November 22, 1875, between California Indians in their homelands and outsiders associated with the Sulphur Bank Quicksilver Mining Company operating on Elem ancestral lands. In the ensuing years, the mine would cause widespread mercury contamination of the lake, with grave and long-lasting repercussions for the Elem community.
When Tavernier arrived in California, in 1874, the Pomo peoples had for decades suffered the consequences of white settlement, including genocidal violence, disease, land theft, forced relocation, environmental degradation, and cultural transformation. Yet in the face of colonialism, Pomo basket weavers adapted to economic and social change, enabling this core aspect of Pomo culture to survive. Presented alongside Tavernier's works are historic and contemporary Pomo baskets and regalia pieces that celebrate the enduring artistry and resiliency of the Pomo artists and cultural bearers over several generations and highlight their continued cultural presence in their homelands today.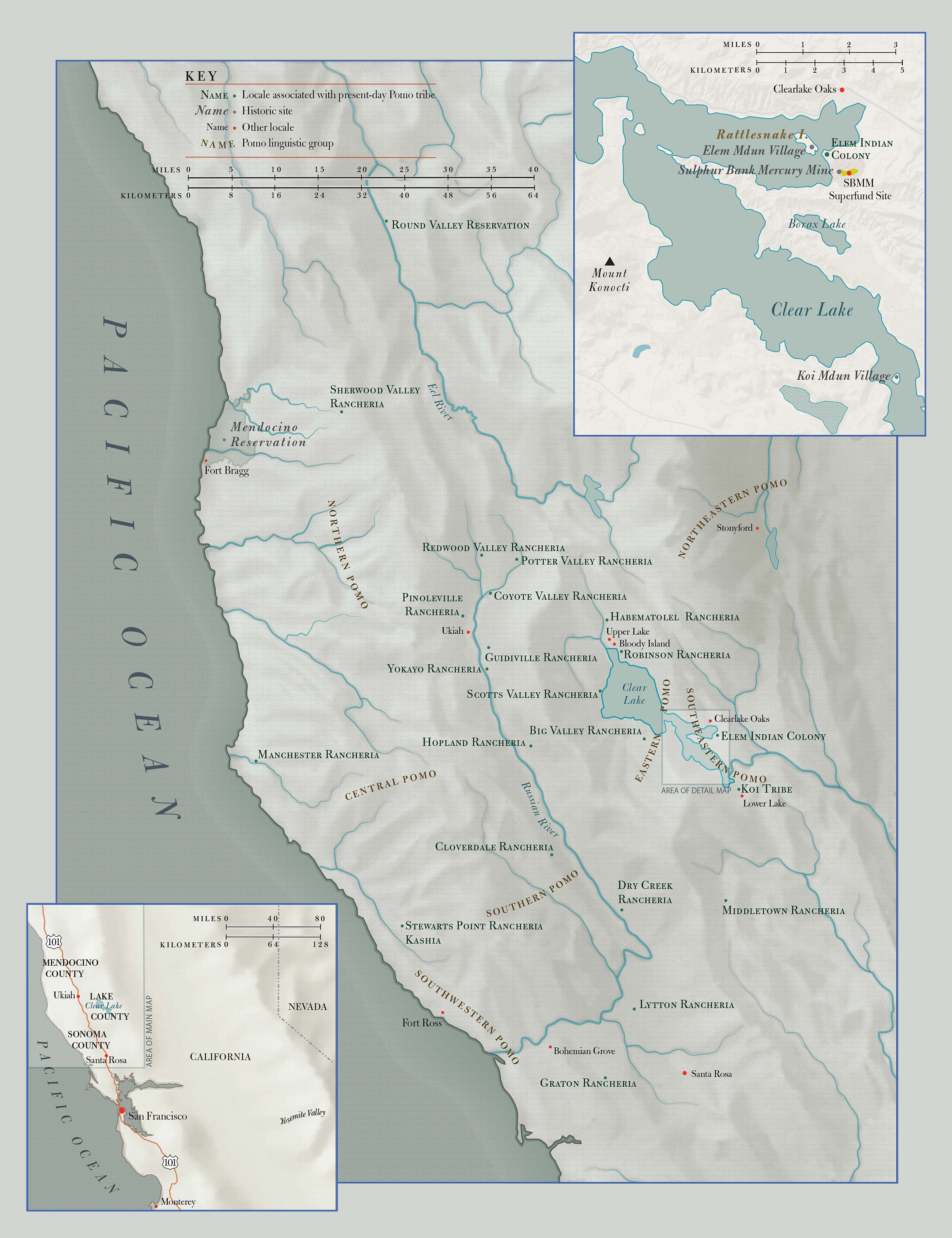 Exhibition Organization
Jules Tavernier and the Elem Pomo is organized in partnership with The Metropolitan Museum of Art, New York. Co-curated by Elizabeth Kornhauser, Alice Pratt Brown Curator of American Paintings and Sculpture, and Shannon Vittoria, Senior Research Associate, The Metropolitan Museum of Art, New York, in partnership with Christina Hellmich, Curator in Charge, Arts of Africa, Oceania, and the Americas at the Fine Arts Museums of San Francisco. At the de Young, the exhibition is co-presented with Elem Pomo cultural leader and regalia maker Robert Geary; Dry Creek Pomo / Bodega Miwok scholar Sherrie Smith-Ferri, PhD; and Eastern Pomo artist and curator Meyo Marrufo; with additional contributions from Arthur Amiotte, Oglala Lakota artist and historian; Dorene Red Cloud (Oglala Lakota), Associate Curator of Native American Art at Eiteljorg Museum; and Healoha Johnston, Curator of Asian Pacific American Women's Cultural History at the Smithsonian Asian Pacific American Center. Patricia Marroquin Norby (Purépecha), PhD, Associate Curator of Native American Art at The Metropolitan Museum of Art, is an adviser to the project.