American
The artists William T. Wiley, Robert Hudson, and William Allan grew up together in Richland, Washington. All three continued their art studies at the California School of Fine Arts in the 1950s, although they ultimately rejected the then-dominant Abstract Expressionist style for more intensely personal visions inspired by Dada and Surrealism. Often credited as pioneers of the Bay Area art movement known as Funk, they occasionally create complex collaborative works in their idiosyncratic style.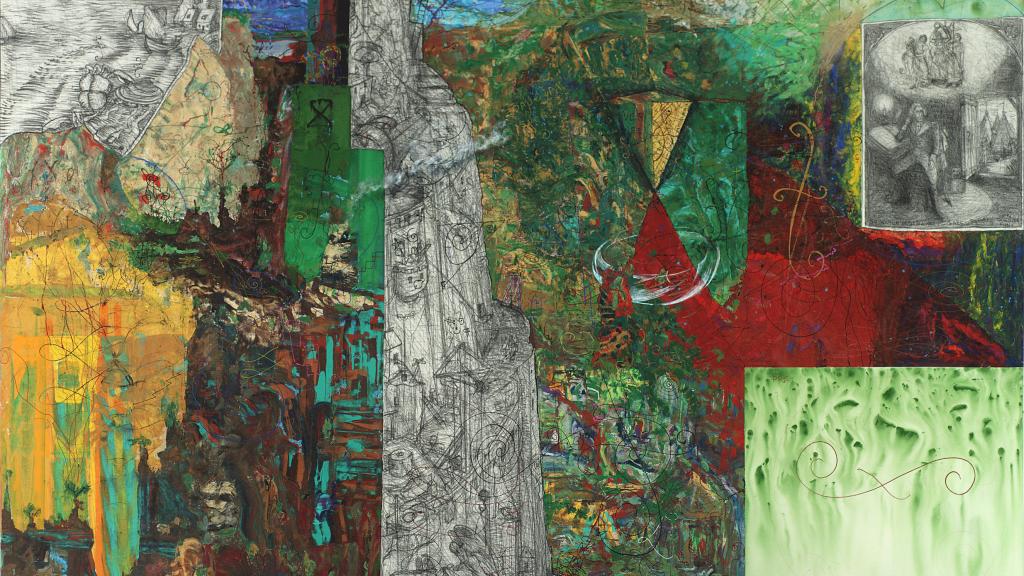 Have you ever created art with friends?
This ambitious collaborative work is a panoramic landscape that is equal parts representational and abstract. The painting is divided vertically and horizontally into map- or grid-like geometric sections that resemble the disjunctive crosscuts of cinema, collage, or cartoons. Given the collaborative nature of this work, it also recalls the Surrealist drawing game known as "the exquisite corpse," in which artists take turns making marks on a single piece of paper.
Medium
Paste, conté crayon, charcoal, graphite, and acrylic on canvas
Credit
Gift of the Artists, courtesy of Wanda Hansen
Dimensions
61 1/2 x 87 1/2 in. (156.2 x 222.3 cm)
Artist name
William T. Wiley, William Allan, Robert Hudson