American
Hiram Powers is perhaps the most famous American neoclassical sculptor. Born near Woodstock, Vermont, he moved to Cincinnati, where he modeled waxworks for Joseph Dorfeuille's Western Museum. His naturalistic portrait bust of Andrew Jackson (1834–1835, Metropolitan Museum of Art) earned him a national reputation and the support of the American sculptor Horatio Greenough, who funded Powers's travel abroad in 1837; Powers lived and worked in Florence, Italy, from 1837 until his death in 1873.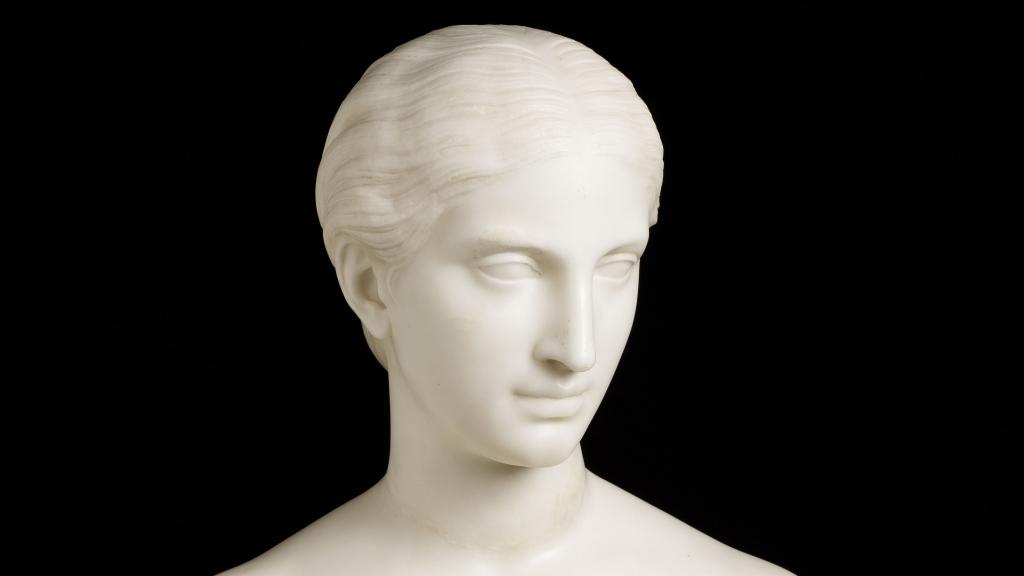 How would you personify California?
In 1850, inspired by the California Gold Rush and the success of his sculpture Greek Slave (ca. 1873), Powers modeled a standing female nude, which he called El Dorado. Retitled California and cut in marble in 1858, the full figure was the first sculpture by an American artist to be acquired by the Metropolitan Museum of Art in New York. This bust is the first of four known versions, and it was acquired by M. H. de Young and presented to this collection in 1916.
Dimensions
27 3/16 x 18 1/8 x 12 in. (69 x 46 x 30.5 cm)