American
Hermann Dudley Murphy was born in Marlborough, Massachusetts, in 1867. After studying at the School of the Museum of Fine Arts, Boston, he worked as a newspaper and magazine illustrator before traveling to Paris to study at the Académie Julian. In Europe he encountered the Aesthetic movement and the work of James Abbott McNeill Whistler. Murphy began working in a similarly ethereal, dreamy, and Tonalist style. He returned to the United States in 1903, where he became a leading Boston artist.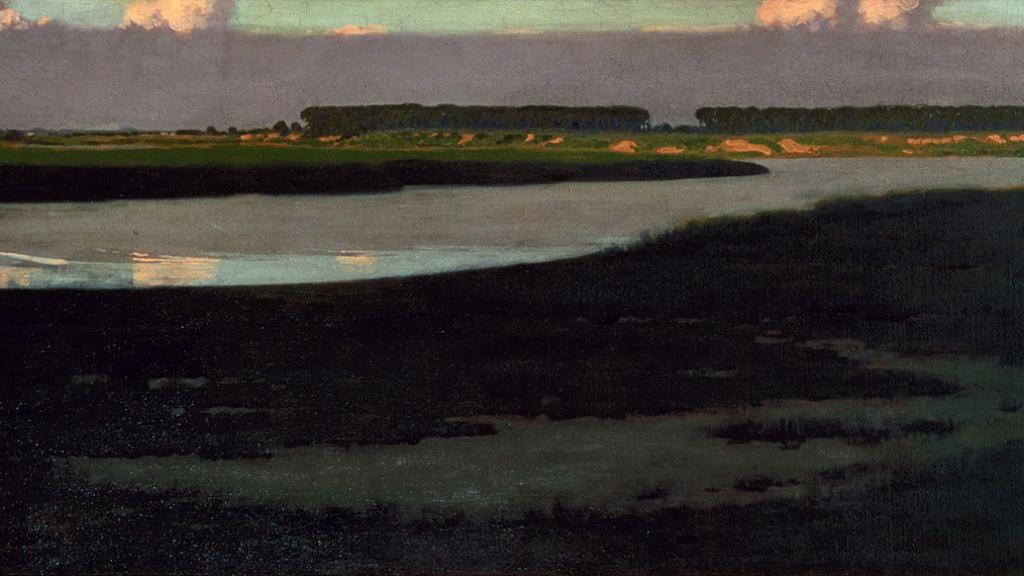 What emotions do colors convey?
When he taught painting on Cape Cod in 1899, Murphy urged his students to use poetic abstraction to "awaken an emotion" in their viewers. In this landscape painted that summer, he shows the power of this approach, emphasizing the tonal values and decorative qualities of the scene. This depiction of the flat, boggy landscape along Boston's northern shore shows the rhythmic harmony of shadowy marshes, winding channels of water, and bands of gray suggesting banks of clouds and their reflections.
Credit
Museum purchase by exchange, bequest of Elizabeth Leslie Roos in memory of her son, Leslie L. Roos, with additional funds from the family of Leslie L. Roos
Dimensions
23 5/8 x 65 3/8 in. (60 x 166.1 cm)
Artist name
Hermann Dudley Murphy
Alternate trigger image