American
William Glackens established his artistic reputation at the turn of the century with uncompromising modern depictions of urban life. He was born and raised in Philadelphia, where he took night classes at the Pennsylvania Academy of the Fine Arts while working as an artist-reporter for a local newspaper. He later moved to New York City, where he became one of the nation's premier commercial illustrators, a profession that provided him the stable income that enabled him to pursue painting.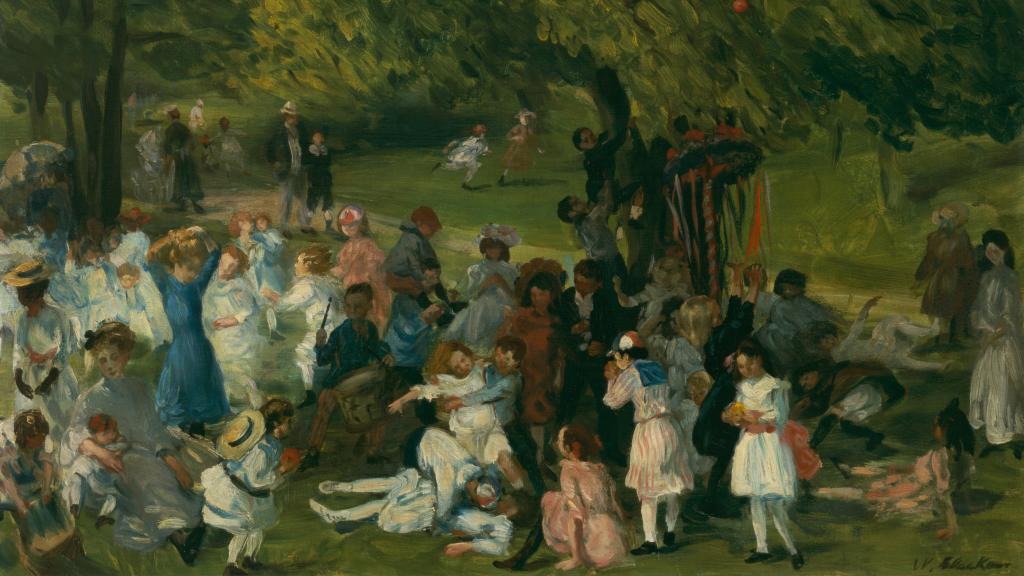 What kind of energy does this painting capture?
Glackens was a realist at odds with artistic conventions. Here, he employed dashing brushstrokes and rich, brilliant color to capture the rowdy hustle and bustle of a springtime celebration in New York's Central Park. Well-dressed children wrestle and play in the sunlight while, in the shade, a maypole teeters, largely ignored. The artist, who worked as a newspaper illustrator, is particularly successful in conveying the energetic play of the children in a spontaneous and vigorous style.
Credit
Museum purchase, gift of the Charles E. Merrill Trust with matching funds from the M. H. de Young Museum Society
Dimensions
25 1/8 x 34 1/4 in. (63.8 x 87 cm)
Artist name
William James Glackens