American
Samuel Miller worked as an itinerant portrait painter in Charlestown, Massachusetts. Little is known about him, though contemporary scholars have made great efforts to identify his works. At least sixteen known portraits have been ascribed to Miller, most of which are full-length portraits of children. These works share certain qualities, such as flattened figures, bright colors, and carefully painted clothing. Miller's portraits also frequently include trees, flowers, or the sitter's pets.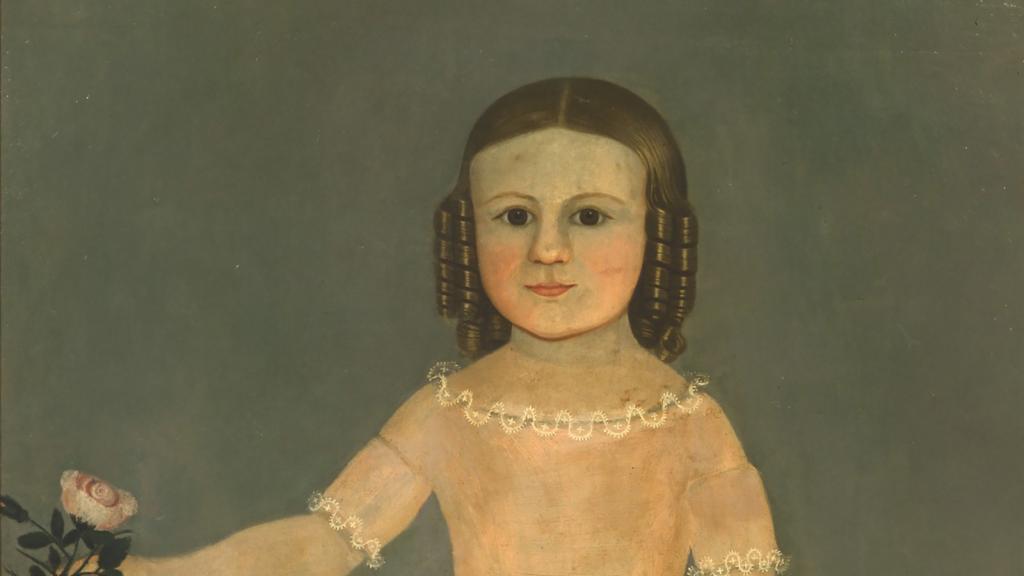 What details are most striking in this painting?
Miller's portraits of children share some common attributes, such as large, almond-shaped eyes, individually painted eyelashes, meticulously rendered clothing details, and full, pink cheeks. His flesh tones feature shades of blue, which he probably used to prime his canvases. In this painting, a young girl pauses in the middle of picking pink roses from a potted bush. Her minimally modeled forearms, stylized flowers, and carefully depicted cotton pantalettes are hallmarks of Miller's artistic style.
Medium
Oil on canvas mounted on hardboard
Credit
Gift of Michel David-Weill
Dimensions
37 x 26 1/2 in. (94 x 67.3 cm)
Artist name
Samuel Miller