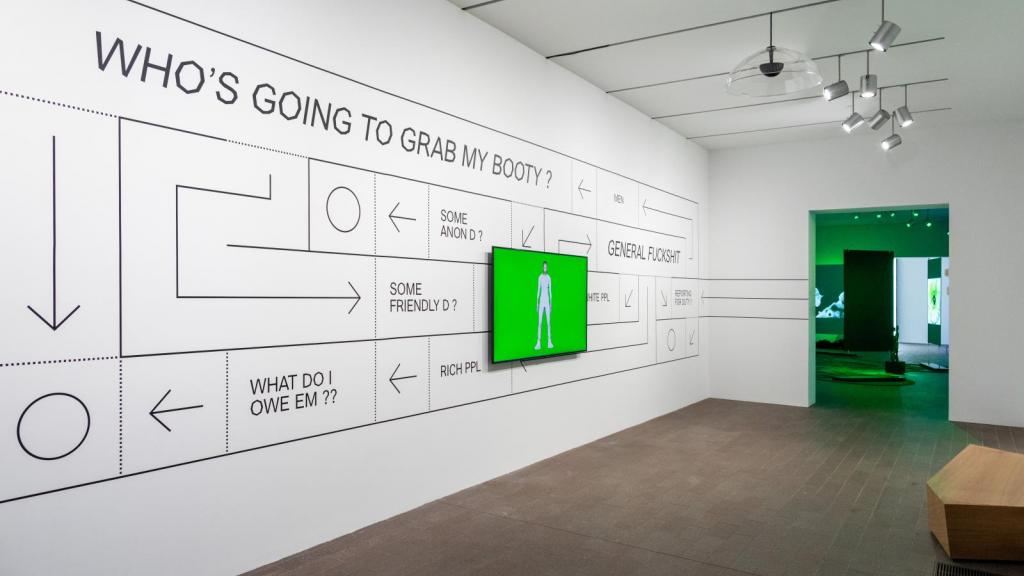 Threat Model visually collapses digital and psychological space. The work's title refers to the practice of threat modeling, a process of mapping a system's vulnerabilities in order to maximize its security. In oversize vinyl letters that reinforce the sense of anxiety conveyed by the text, the work presents a large-scale representation of a threat map. But rather than laying out a network's vulnerabilities, it reveals the artist's insecurities and negative thoughts—what she describes as her "shame space." Although specific to Martine Syms, the compulsively recurring thoughts on weight, sex, money, race, friends, and music are widely relatable.
This self-directed negativity also appears in Mythiccbeing. In this work, Syms appropriates her own body to create an avatar named Teeny. "Mythiccbeing—thicc' 'cause she's got hips," she says of the bot. Syms refers to Teeny as an "anti-Siri." Animated by a system of artificial intelligence, Teeny can respond to its audience through text. However, its demeanor is deliberately and exaggeratedly self-centered. It prefaces conversations by informing viewers that the upcoming exchange is not about them and that little of their input is necessary—disrupting their subject-oriented worldviews with its self-absorption. Its assertiveness counters the subservience consumers have been taught to expect of digital assistants. This is particularly true of bots with overtly gendered identities, such as Apple's Siri and Amazon's Alexa, whose design and marketing encourage an association between obedience and femininity. Such positioning suggests that the perspectives perpetuated by the male-dominated field of engineering are yet another instance of built-in bias to overcome.
Text 310.997.4973 to chat with Teeny.
Please be advised that the avatar uses language that may be offensive to some. Message and data rates may apply.
Medium
Interactive video and wall vinyl
Dimensions
Duration: infinite